Ultimate *NSYNC Fan Quiz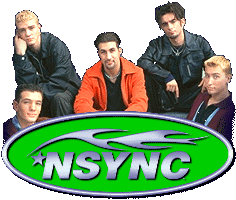 The last quiz no one got all the answers right. I thought I'd make this
one easier and shorter.
1.) What is the 3rd single NSYNC came out with from NSA?
a. Digital Get Down
b. That's When I'll Stop Loving You
c. Space Cowboy
d. This I Promise You
2.) What is the name of the new Cd?
a. Celberity
b.Bigger Than Life
c. Opps... We Did it Again
d.Illusion
3.) Joey has a brother that goes on tour with NSYNC what is his name?
a. Tyler
b. Steve
c. Alex
d. Ernie
4.) What is Justin's best friend's name?
a. Curly # 2
b. Steven
c. Carson
d. Trace
5.) Which MTV personality helped NSYNC on their NSA tour?
a. Ananda Lewis
b. Carson Daly
c. Dave Holmes
d. Brian McFayden
6.) What is JC's girlfriend's name?
a. Joanna
b. Bobbie
c. Brittny
d. Crystal
7.) Which food company is NSYNC doing a contest with?
a. Kelloggs
b. Coca Cola
c. Nabisco
d. Heinz
8.) NSYNC is currently selling NSYNC....
a. hair spray
b. candy
c. bears
d. srunchies
9.) NSYNC has had a NSA concert aired on...
a. ABC
b. NBC
c. HBO
d. Starz
10.) What is the name of the girl chasing NSYNC in the video "Bye Bye Bye"?
a. Kim
b. Danielle
c. Michelle
d. Heather
11.) What is NSYNC's favorite restaurant in Orlando?
a. Ale House
b. Apple Bees
c. Red Lobster
d. Little Italy
12.) Chris' clothing company, FuMan Skeetopresents one artist on their NSA tour. His/her name is:
a.Meredith Edwards
b. Pink
c. Ron Irizarry
d. Sisqo
13.) How old was Justin on Star Search?
a. 11
b. 9
c. 13
d. 10
14.) What song did he sing on Star Search?
a. Thriller
b. Born in The USA
c. The Thunder Rolls
d. Love's Got a Hold on You
15.) What group did JC produce songs for?
a. Boyzone
b. Wild Orchid
c. 98 degrees
d. O Town
16.) What is the correct way to say JC's last name, Chasez?
a.Shah-zay
b. Che-ses
c. Ches-az
d. Cha-zay
17.) On the way down during a sky dive which member smackedd into a bird?
a.Justin
b.Chris
c.Lance
d.Joey
17.) Lance participated in a singing group called:
a. The Mississippi Show Stoppers
b. The All American Vocal League
c. Ruff Riders Crew
d. Cash Money Records Posse
18.) Which new rule is now enfocerd at NSYNC concerts?
a. no screaming
b. no posers
c.no flashing
d. no posters
19.) What is the stage manger's name?
a. Anthony
b. James
c. Lonnie
d. Andre
20.) Who is the head security guard for NSYNC?
a.Wes
b. Lonnie
c. Randy
d. Andre


Rules:

1.If you think you know the answers please copy and paste the quiz in the email and high lite, bold, or underline the correct anwers.
Any other way you send them to me they will be counted wrong.
2. When you send me your answers please know that I do have sources that confirm these answers. If you know different than anything other than what I have as the right answer please take into consideration that this quiz is for FUN and I have sources that backup my answers.
3. Have FUN!!!
E-mail me with your answers at:
or
IamAnsyncFANatic@aol.com
All who send me all of the right answers
will be mentioned on the next quiz!!!