*NSYNC News
Wanna know the latest about *NSYNC? Well check out what's happin'...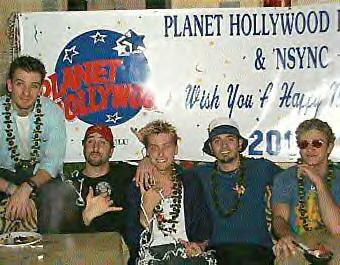 Up Dated News

-NSYNC BIGGER THAN LIVE
The giant screen version of the immensely popular group's electrifying ``No Strings Attached'' has opened to sell-out crowds in Columbus, Ohio. COSI is one of the few places in the world people can see their favorite band on the Big Screen. While the world premiere is March 30, 2001, fans in Columbus have had a sneak preview of Justin, Joey, Lance, JC and Chris for the past couple of weeks. Over 10-thousand people have seen the movie in Columbus alone.
Thanks to nsyncstudio.com for this info. For more info go to nsyncbiggerthanlive.com

-*NSYNC's Justin Timberlake has been offered the starring role in the new TV Version of the Wizard of Oz

-A factory fire broke out around 7am on the 28th in Toronto Canada.
Joey and Lance were immediately evacuated from the building were they were filming a movie.They were evacuated for fear that the fire could spread or that chemicals could explode."

-New Album As "Celebrity"out June 36th; Single to Follow This Month
It has been rumorded that "Dirty Pop" will be NSYNC's new single
sheck it out on napster!
-Joey's girfreind is to have a baby
"The success of 'N Sync has made Orlando's Joey Fatone one of the wealthiest young entertainers in the world. So you might think his daughter would also be raised with hand-woven silk wet-wipes and platinum Pampers.
That notion disappears faster than most daddies at diaper-changing time when you see where expectant girlfriend Kelly Baldwin set up baby-gift registries: Babies 'R' Us and JCPenney.
That's why Fatone and his family are so popular in Central Florida. They're the kind of down-to-earth folks who wouldn't stick old pals from high school with a wish list from Nouveau Riche Rugrats of Snobberly Hills.
Baldwin, according to her drivers license, is a 5-foot-1, 23-year-old who wears corrective lenses, but has no other restrictions -- good to know when Baldwin starts steering the baby stroller around Fatone's four-bedroom, four-bath $402,400 pool home in south Orlando.
Little Brianna's nursery and crib will feature a "sun, moon and stars" motif, according to Baldwin's online gift registries, which are blank where the father's name goes.
Most items requested are pretty basic. So the next time you swab down your sink splashers, you can tell them you're using the "pop-star preferred" $10 per three-pack Carter's washcloths.
Amid the list of scented drawer liners, spill-proof cups and baby-food organizers is one sure sign of the Fatone DNA -- a deluxe eight-piece grooming set. But doubt that comes with daddy's favorite flaming-red highlights.
One of the few luxury items requested was a $199.99 handheld TV monitor, but it was out of stock, as was the $3.99 Comfy Bear Bath Cushion.
The couple also requested -- and received -- a $64.99 Comfortemp Underarm Thermometer. But as any baby or new parent would tell you, considering the alternative, that little gadget is worth its weight in gold . . . records.
Thanks to nsyncstudio.com for the info.
--------------------------------------------------------------------------------

-NSYNC came home with three moonmen at the 2000 MTV VMA: Veiwer's Choice Award, Best Pop Video, Best Choreography in a Video!
-*NSYNC and the Latin Grammy Awards: *NSYNC will be heading to the Los
Angeles Staples Center on September 13, 2000 for the first annual Latin
Grammy Awards. To make the event even more awesome, *NSYNC will be
singing a bilingual tune in English and Spanish! Check back for air
times.
-PROMISES, PROMISES - Mark Sept 18th on your calendar as we get ready for
the English, Spanish and Spanglish versions of *NSYNC's single 'This I
Promise You' or 'Yo Te Voy A Amar' en espanol! The singles will be in a
store near you!
TOUR DATES - September 16th is the date! Be sure to get your tickets
for the hottest show in town. Check out my scedule page to see when
*NSYNC will be performing in a city near you!
-Oct. 10 - Release of At Home With *NSYNC Home Video
-Motorola! - Official CFTCII sponsor Motorola has whipped up an awesome
contest for you guys! Find out how to win great Motorola merchandise in
the upcoming weeks. FREE CELL PHONES!! If you've never entered
an *NSYNC contest before –now would be a 'must do' time!
Keep checking NSYNC.com for more info.
-Joey has teamed up with R&B female trio Blaque, for a single the soundtrack for the movie, "Bring It On". The movie comes out on Aug25th and the soundtrack will be available at retail outlets on August 22nd!
-www.nsync.com is offically the most popular music artist site on the Worl Wide Web!
-NSYNC Game Gets Fans Backstage. Patch Products has begun national
distribution of it's game NSYNC Backstage Pass. Two to four players will be
barraged with an onslaught of band trivia questions. Each correct upgrades
players from the last seat in the stadium all the way to privileged backstage passes.
All aspects of the lives and careers of the five memebers of NSYNC are fair game
for the trivia questions. The game is for ages 8 and up. It should retail in stores for around $24.
-Chris is now the official spokes person for the Child Watch North America.
It is acharity that aims to keep chidren safe and to reunite parents with
their missing children.
-*NSYNC MAKES GUINESS BOOK OF WORLD RECORDS .*Teen band 'N Sync holds the record for first-week CD sales -- 2.41 million copies of No Strings Attached, released March 21.

-The Bloodhound Gang are working on tracks with *NSYNC, and they have
plenty more mainstream groups desperate to collaborate with them.


Old News
-Lance will be on the 7th Heaven again next season..
-In addition to many other records, Nsync holds the record of the
amount of people signed on at once and for going into the live chat.
It was Britney's record they broke. 95,000 people were in the chat.
-There are going to be new *NSYNC dolls/marionettes to buy in
stores soon.
-The movie Jack of All Trades which NSYNC had a surprise
appearance in will be going straight to video.
-Buy the new Teen, TP, YM, Entertainment Weekly & Cosmo
Girl magazines. *NSYNC is on the covers.
-Nsync beat BSB's record of album sales! Not only did they beat BSB's
record of weekly sales, but they did it in the FIRST DAY! Then, they
amazingly came close to the weekly record again in the 2nd day!
Both days they sold about $1.1 million copies.
-Bye Bye Bye was #1 on the weekly top 40 for 9 weeks straight.
-The next single is "It's Gonna Be Me" which is due out in May. The
singles following that will most likely be "This I Promise You" and "Just
Got Paid." Another rumor is "It Makes Me Ill".
-Chris taped an episode of Hollywood Squares. Possibly airing
August 4th...
-Singer "Joe" who was part of the duet "Thank God I Found You"
with 98* and Mariah Carey will be doing a duet with *NSYNC for his next
CD. The song is "I Believe In You." His CD is also topping the charts.
-PINK is the opening act on the tour this summer along with Ron
Irizarry, a new singer Chris promotes.
-They will already be recording their next album in August! It may
feature a duet with Britney Spears.
-Their movie plans are about to be finalized, and the film should
be out by late 2001.
-At their May 10th concert, Dr. Dre, Eminem, and DMX showed
up to watch. What a thrill for Justin!
-There's a Bye Bye Bye pop-up video on VH1, sorry no info
on when it airs.
-Justin was votest the hottest of the hot 25 under 25 for TP. He
shared the honor with Brian Littrel (BSB).
-Commercials have been airing on HBO for their Concert
Special, from Madison Square Garden in New York City.
-Justin re-did his braids, they're crazy zig-zags.
-ADDED TOUR DATE!!!!!!!! 7-22 Foxboro Stadium in MASS!!!
-Sisqo has dropped out of the tour to work on his movie career.
-New opening act.. rumored to be Boyz N Girlz United. JC has
written songs for them.
-Justin and Monica in a made for MTV movie? Someone heard this
on the radio..so it's possible!
-NSYNC & Britney filmed a new McDonald's commercial. There
will also be a McD's CD featuring them.
-Justin wanted cornrows back when he was in school, but they
weren't allowed.
- MTV is re-airing shows like *NSYNC-Live + UltraSound.. if you
missed them make sure you watch!
-NSYNC set another record! On June 9th, more than 60,000 fans
turned out to see *NSYNC at the Rose Bowl in Los Angeles California.
This sets record for the largest audience turn-out for a single
concert performance at the Rose Bowl.


If you have any news you'd like me to put up,
email me @ SteveNBustaLuva@aol.com