My *NSYNC Close *N Counters
(But not Close Enough)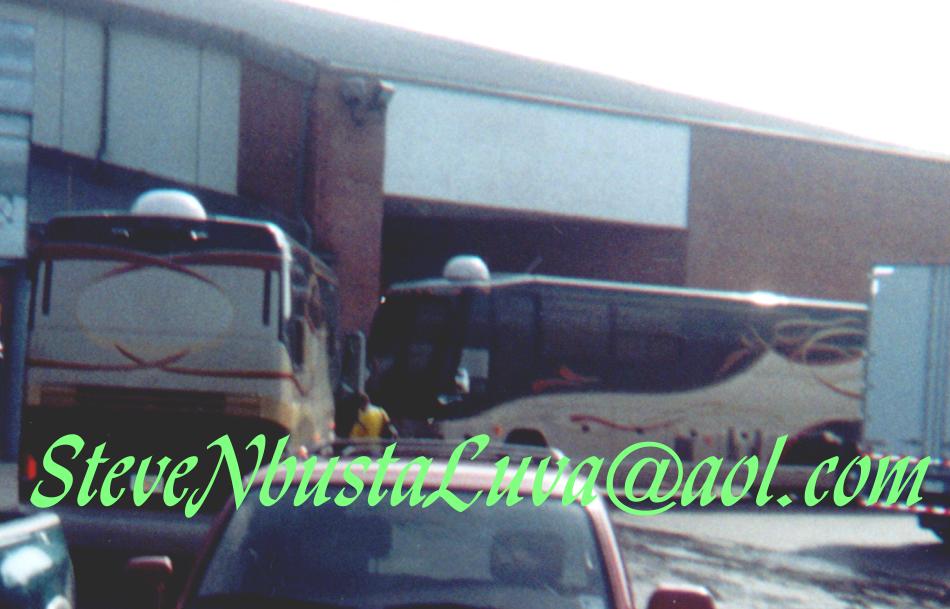 Steve (in yellow) getting' on to the tour bus behind
the Cajundome in Lafayette, LA 4/6/1999


Tatayana Ali & Divine's buses, *NSYNC's limo (Justin and Chris
got out of it!!!), & Lance's dad's car (the red one) behind the
Cajundome in Lafayette, LA 4/6/1999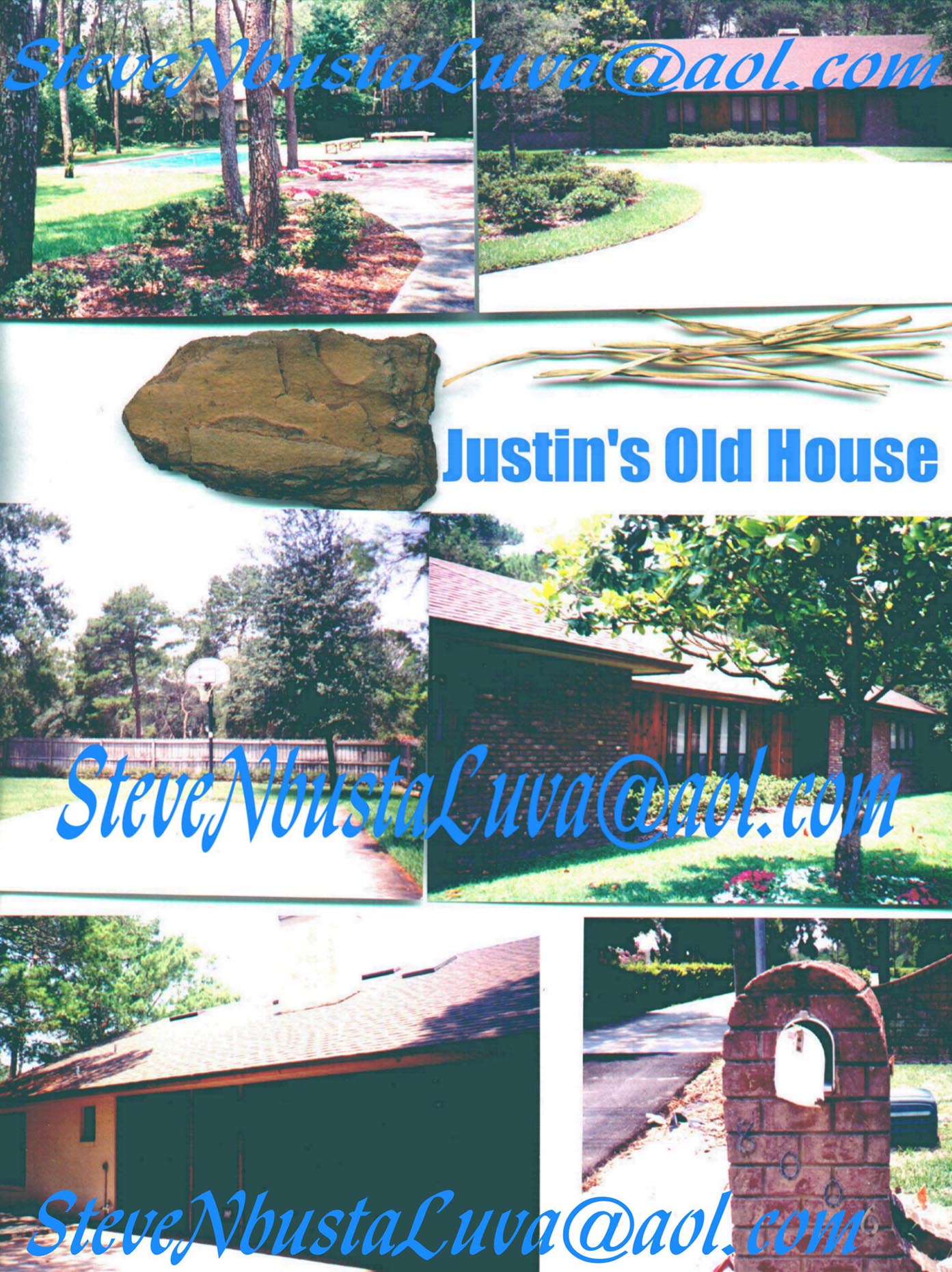 This is a collage I made of my pix of Justin's old house. I had to bring
back a souvenir...grass and bark...LOL.
*NSYNC's new bus pulling into the loading dock of the BJCC 10/22/2000
Here is a video that will prove that he onced lived there!!!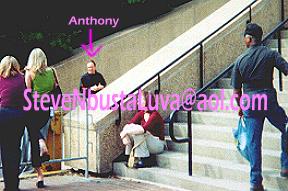 Anthony at the loading dock of the BJCC 10/22/2000

Anthony at the loading dock of the BJCC 10/22/2000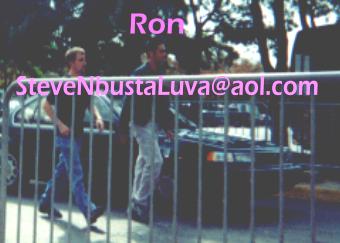 Ron Irizarry at the loading dock of the BJCC 10/22/2000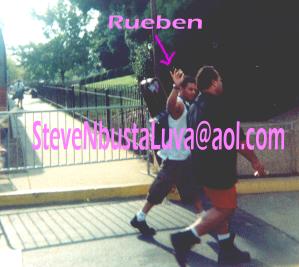 Ruebenat the loading dock of the BJCC 10/22/2000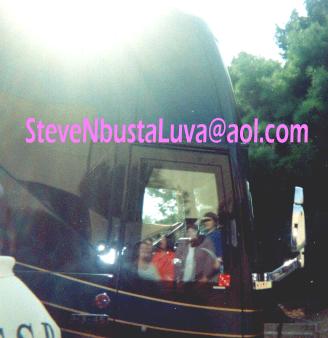 *NSYNC's new bus pulling into the loading dock of the BJCC 10/22/2000

*NSYNC's new bus pulling into the loading dock of the BJCC 10/22/2000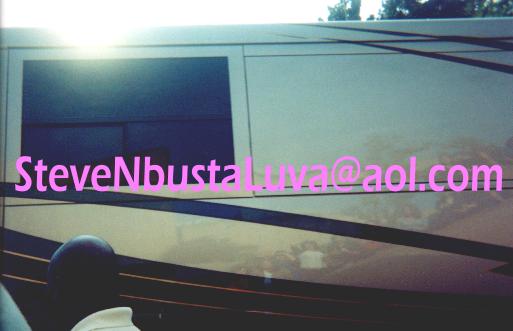 *NSYNC's new bus pulling into the loading dock of the BJCC 10/22/2000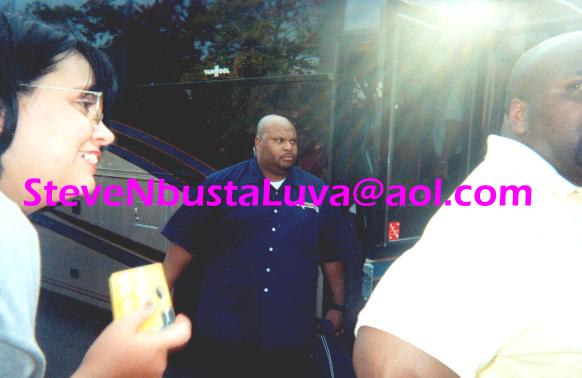 Lonnie infront of *NSYNC's new bus pulling into the
loading dock of the BJCC 10/22/2000
Dear Fellow *NSYNC fan,
Hi, my name is Joanna. I am 15 years old. First off, I'd like to say
that my best friends CrystaI, Brittny are writing this letter to whoever might be
able to help us meet *NSYNC. If you have the power, I'm sure you get this
a lot, but we're writing to convince you that we truly need your help to meet
*NSYNC.
I'm not sure of how I might prove to you that we really deserve meeting
these guys, but maybe something I will say will convince you. I truly believe
*NSYNC has made me open my eyes to a lot, whether it is music or how to
handle certain situations. Seeing *NSYNC go through so much (lawsuit), made
me realize how much you have to work for something. All that they have done
to reach the point at which they are, made me see that you can never give up on
something you really want. That is why I am never going to give up on
meeting them. *NSYNC has brought me so much closer to my friends because
we know that's what we will always have in common. Being a *NSYNC fan is
like a job to me. *NSYNC has their job, that is to bring wonderful music to the
world, and mine is to tell them how much we enjoy it. Being the fan that I am,
I have tried everything in my power to get as close to *NSYNC as I possibly
can, and I haven't had much luck.
Let's see we have been to four concerts (they don't come around very
often), tried to win many contests, and I even went to their old house. Our first
*NSYNC concert experience was on April 6, 1999. We didn't have very good
seats, but we didn't know what we were doing back then. Anyway, we did
know that they were going to be at the venue early, like always. We got to the
Cajun Dome (venue) at about 3:00. Their buses were already there. Some of
the guys had already gone in. We took many pictures of the buses and of
Mr. Bass's (Lance's Dad) car. (See pix above) Then, two limos showed up and
Chris and Justin got out of them. I saw Chris, and then I saw Justin with his
bright orange shirt and took pictures. Their security wouldn't let us get any
closer so on my pictures, only we would know that, the orange dot is Justin.
There were too many girls in front, so I just heard people say, "Justin", and
I took pictures hoping that he was there. After they went in, Steve, Joey's
brother, came out and got on their tour bus. But that's not all, when we got in
the venue and went to the concession stand upstairs by our seats, Steve came
right next to us and ordered a Coke and some popcorn. Being the huge
*NSYNC fans that we are, we freaked out and were at a loss for words. We
just stood there feeling stupid, especially after the fact. The concert ended too
fast and even though our seats weren't that great, I still have never washed the
shirt I wore just in case their breath touched my shirt (hey, they have to breathe too).
We drove from Lake Charles, LA to enter in the Moss Select contest, in
Lafayette, LA and didn't win. I called to qualify for the "Drink for *NSYNC"
contest, and managed to get numbers 13, 35, and 64, but not 94 (The number
you had to get to qualify)!
Well, there is still more to come; we also went to a concert in New
Orleans, LA on August 12, 1999. Our seats were a lot better for this concert.
I guess you could say 12th row is an accomplishment. When we got to New
Orleans, it was about noon and we went to eat at The Hard Rock Café, JC's
favorite restaurant. Then, we went to the mall that was connected to the Hyatt
Regency next the Superdome. That's where we thought *N SYNC was staying.
We were hoping since the hotel is in the middle of the mall and we could walk
through it, that we might catch a glimpse of them, but no such luck. They had
already goneto the Superdome for sound check. After that, we went to the
venue and sat down. The concert was awesome and we had a blast. JC noticed
me and that was the best part. The sad thing was that I brought a baby blue
WWJD teddy bear for Justin but was never able to give it to him.
We spent the night in New Orleans and drove back the next day. And
what do youknow, when we where driving back on our way home my sister's
best friend Heather says, "Hey, that's a neat bus". I turned around and there
was *NSYNC's bus at the TA truck stop in Lafayette that is close to the exit. So,
my mom got off the ramp and went back to the exit where they were parked.
Assoon as we got off of the exit, they were getting back on the interstate. With
my luck, we got caught at a red light. When the light turned green, my mom
put the petal to the metal. Then, the race was on to find *NSYNC. When we
finally caught up to them, they were pulled over on the side of the road,
probably to make people drive by so no one could follow them. By then, we
were crying because we could see James, their bus driver. (I don't have the pic
I took cause I sent the ONLY copy to Carson.) My mom WOULD
NOT pull over for anything. So, we drove to the nearest rest stop, thinking that
maybe they would pass us up. We wait for an hour, and they never passed us
up. We came close to meeting *NSYNC, but not close enough.
For vacation, my family and I planned a vacation to Orlando, not a
coincidence. On the Internet, I found the address to Justin's old house that he
lived in just a few months before. Therefore, my mom said she'd take me
there. I also found where Trans.-Con. was and where Mrs. Lynn's (Justin's
mom) business, Just-In-Time Entertainment was. We went to Destin, FL first
and then went to Orlando, where we went to Justin's house that was for sale.
Then, we went to Trans-Continental and they wouldn't let us in. Obviously,
someone was there and they didn't want us to know about it. Next, we went
to where Just-In-Time Entertainment was supposed to be, but the building was
for rent. For all of the running around we did we didn't find much. But finding
the house that they used to live in was amazing! (see collage above)
The next day we went to Disney World. I thought that maybe they would be
around since they had time off, but hey were nowhere to be found. However,
I still had a blast at Disney World knowing that *NSYNC had once been there!
Our third concert, on May 27, 2000 was also in New Orleans. We stayed at
the Hyatt thinking that *NSYNC would be staying there. But, come to find out
they weren't at the Hyatt. They stayed at the Royal Sonesta on Bourbon
Street, a hotel at which I could never afford to stay at. Before the concert we
wentand ate at the Hard Rock because we thought that *NSYNC was eating up
stairs. Come to find out the private party wasn't for *NSYNC it was just a
Wedding Reception. We had to wait hours at the Hard Rock which made us late
getting back to the hotel, and late to get to the Superdome and we missed
registering to get Meet N Greet passes to see *NSYNC. Our last hope of having
luck was still to come because we thought we had good seats. I mean why
wouldn't you when we were 5th row floor. However, when we got there, we
realized they weren't as good as we hoped because they were off to the side of
the stage. The show started late so the concert was cut short. We saw Joey's
brother, Steve, and wanted to take a picture with him. He was on the other side
of the barrier. We got our cameras out but the security guard said we couldn't
get any closer. Therefore, we missed our chance at getting a picture with him.
Worst of all is that my best friend Crystal got sick before *NSYNC came on
stage. We promised each other thatif anything happened to where one of us
couldn't see the show, that none of us would. Iknew how much *NSYNC meant
to her so I couldn't help crying when *NSYNC came out on stage and she
wasn't there to see it. Because I didn't want to see the show without her, we all
missed the beginning and the end of the concert, which was about five songs.
It seemed as if there was a black cloud over our head the whole trip. Almost
every possible thing that could go wrong did. We had our hopes up so high
about the concert. We thought they would be at the Hyatt, and they weren't.
We thought we would see them on the way back home, and we didn't. We
thought we would have good seats and see the entire show, and we didn't.
We were also hopping to meet these great guys, that didn't happen. We were
so upset that we didn't want to go to school the next day and have to tell our
friends about our trip.
Thinking that Carson Daily from MTV's TRL might be able to help us, we
sent in a video telling him how much we would LOVE to meet *NSYNC and how
much they mean to us and a letter similar to this one in all hopes of getting
some sympathy. Unfortunately, we never heard anything from him.
And yes there is still more. We just went to another in concert in Birmingham,
Alabama. Yes you read RIGHT. Ten hours from where we lived we left the day
before the concert, had to go early just in case. So we drove all day Sat, the concert
was Sunday. When we got to Alabama we searched the town, well went drove
around the BJCC about 50 times to scope out the place. The next day, the day
of the concert, we got up early and got to the BJCC at 10:00 AM and got to watch
ALL the stage crew up load the stage, and got to talk to many cool people who
work for the BJCC and *NSYNC as well!!! Which was fun, but we couldn't wait until
*NSYNC would come around 3 or 3:30!!! Well we stayed outside the BJCC all day
and when my mom came to bring us lunch she imformed us that *NSYNC had been
at the mall all day and we had missed it. I was soooo mad!!! But we didn't leave
because their busses were driving up. It was sooo funny because when my mom
was leaving and after their busses had pulled in and firgued out they had to back
up into the Arena they were turing around and almost hit my mom because she
was behind them. I was like omg!!! LoL I was like I wonder what they are thinking,
because it had *NSYNC stuff all over the car... like it had ALL the buss drivers and
truck drives names on it. Well anyways the best it to come. When it was around
4 o'clock and everyone by now had made there way to where their busses were...
we were by the doors. Alot of people thought we were stupid becasue everybody
was crowded around the busses, but they were aleady in so we thought why stay...
when all of a sudden we hear singing. And we're like um.. so we go up to the
BJCC doors and hear them singing sound check. So we tried to open the door.
We tried tp open abunch before we found one that would come open a little where
someone had broken the side of it. So while everybody else was "watching out" for
*NSYNC, while we were listening to them sing sound check. I started crying right
there. Then I remembered that we had brought our tape recorder so we tapes them
singing The Star Spangled Banner, but we got the tape taken away at the door
because they were searching everybody. I was so mad but it was ok because atleast
I got to hear it.
Well the concert was the best I have ver been to, even though
Crystal still got sick, she didn't get as bad, so we didn't have to leave, so it was ok!!!
But concerts are so much more fun when they can see you and stuff. I remember
one time during GMHSALMTOY Joey did this funny lookin point thing to JC, and I
mocked him and he was like oh she saw me and made a little laugh and point to me...
we were both laughing at the same thing OMG!!! LOL and then Justin noticed and
lauged me during TIPY because I was jumping up and down and singing while my
hair was flapping in Crystal's face and she was making a funny face at me!!!
I had a great time I saw Steve, almost met *NSYNC, another story email me
for it, and saw the best show ever, I felt like I was on stage...only 5 seats away from it
though!!!!
In all of our experiences, and with all that we have tried, we still
haven't met *NSYNC. We're afraid that we are not that lucky, and that is why
we NEED your help! Fellow *NSYNC fans, you are our last hope. Your helping
us to meet *NSYNC would mean the world to us, and it would be our dream
come true. We have truly loved these guys from the very beginning and we
always will. If you helped us meet *NSYNC, you would truly be our HERO!

Sincerely,
Joanna, Crystal, & Brittny
PS: Please relpy and let me know what you think.
THANX!

If you have any *NSYNC experiances please send them to me!!!
Please respond to Joanna @: SteveNbustaLuva@aol.com
or @ IamAnsyncFANatic@aol.com!!! THANX AGAIN!